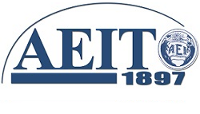 Who are we?
The "AEIT - Italian Association of Electrical, Electronics, Automation, Information and Communication Technology" was established on 1 January 1897 with the original name of "Italian Electrical Association" and from 1 November 2013, following a referendum social, assumed the current name.

Then AIIT - the Italian Association of Telecommunications Engineers, founded in 1962 merged into AEIT . Since 1910, per Royal Decree, AEIT received the recognition of "Ente Morale" and today it is an ISO 9001 Certificated Organization.


What do we do
AEIT is a cultural association and aims to promote and support:
the study of science, electronic, automation, information technology and telecommunications;
the development of related technologies and applications in the broadest sense;
cultural growth and professional development of its members in the areas mentioned.
People and organizations interested in the sciences, electronic, automation, information technology, telecommunications and disciplines and technologies related to them can associate to AEIT.

AEIT headquarter is in Milan, Via Mauro Macchi 32, the office of the General Presidency.




Scarica lo Statuto AEIT


Scarica il Regolamento generale AEIT